Watching this video that went viral at the end of 2012, "2012: What Brought Us Together" really struck a cord.  "Why were so many images recognizable?" I thought for a second while watching the video.  I quickly realized it was because I saw many of them on YouTube and online news sites.  Many of images captured in the video were shared on Facebook and tweeted on Twitter throughout 2012.
I came to realization that I see and hear news solely through internet.  I can't remember the last time I touched a magazine or a newspaper.  While I do regularly visit CNN.com, NYTimes.com, Huffington Post, GOOD, and BBC.co.uk, I also get a large amount of news through social media.  Social media has really changed the way I find and choose which news to read.  My friends and people who I follow on social media are truly influencing the way I see the world through internet. When I scroll down the newsfeed on Facebook and Twitter, I see many articles posted by my friends or people who I follow.  I truly do take the time to click on many of the articles posted and read them.
This video has truly reminded me how the news media industry is changing in 21st century.
Before I go into details about the power of social media to create an impact, I want to share some statistics.
About 1 billion people in the world live with disabilities.  That's about 14 percent of the world's population.  Of those 1 billion people, 275 million have hearing loss.  We're talking about any form of hearing loss.  Then, about 5 million have profound deafness.  People who have profound deafness receive no benefits from hearing aids and cannot understand speech.  Those people would most likely be candidates for cochlear implants.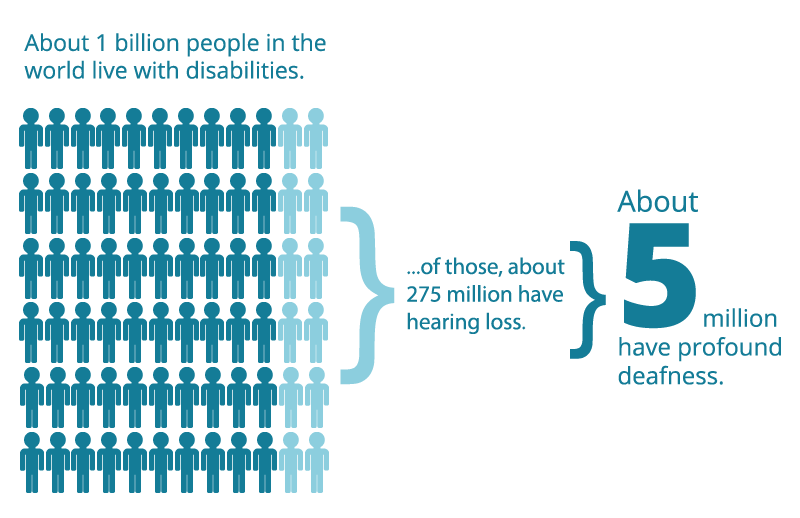 Now, here's the big statistics you need to hear: Only 5 percent of all people who are qualified for cochlear implants are hearing with the technology today.  This statistics is not just a representative of the whole world.  It is the statistics for the US, a country that is so well developed.   Not to mention, cochlear implants have been around for more than 30 years.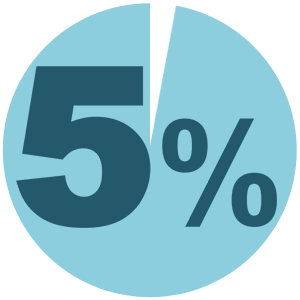 Why this statistics?  Is it because of lack of knowledge?  Perhaps.  Go outside on the streets and ask strangers, "Have you heard of cochlear implants?"  You may be surprised by their response.  There is a YouTube video showing someone visiting downtown Denver, where one of the leading cochlear implant manufacturer office is located, and asking strangers, "Do you know what a cochlear implant is?"
This is where social media plays an important role. Twitter has half a billion users.  YouTube has 800 million users.  1 billion people in the world are on Facebook.  This means that we have the potential to spread the awareness to about 1 billion people.  It is truly possible.  The famous YouTube video, Gangnam Style reached over 1 billion views last year.
The famous video of an 8-month old baby hearing for the first time with a cochlear implant garnered more than 3 million views.  Another famous video of a two-year old cochlear implant recipient, Cooper, hearing for the first time, gained more than 1 million views.  Of course, it's nothing compared to the Gangman Style, but it's still a fantastic number.  That means a huge number people learned about cochlear implants.  Keep in mind that only about 250,000 people around the world are hearing with cochlear implants today.
The top 20 cochlear implant activation videos have received more than 100,000 views each.  Some have surpassed the million view mark.  Together, they have 14 million views total.
On Facebook, on Cochlear's Facebook page, and my Cochlear Implant Online Facebook page, two Facebook pages that I manage, we present a wide variety of posts with images and messages such as "Cochlear Implant is the best invention!" The purpose of these image posts is to spread the awareness.  When we post them, we encourage you to share them and ask your friends to share them too.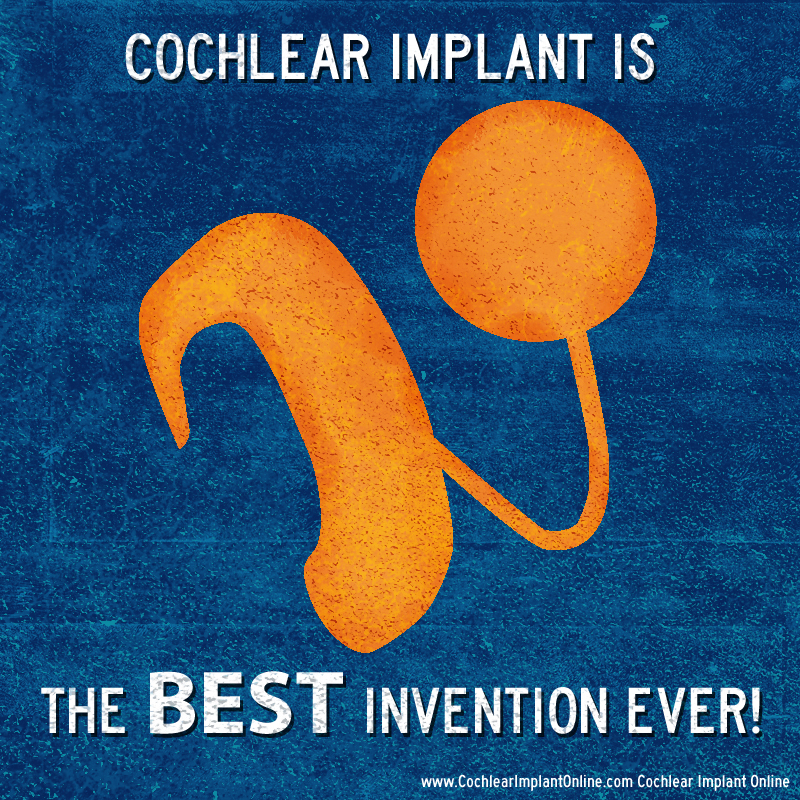 The photo, "Cochlear Implant is the best invention" has been shared by more than 450 Facebook users and viewed by more than 6,500 Facebook users.  This is one of Cochlear Implant Online's highest number of shares and views since Cochlear Implant Onilne has been on Facebook.  Let's try to make the number higher!
When your friends share the image or a YouTube video of a cochlear implant activation, and their friends click 'like' or share the image too, their friends will see it on their newsfeed.
As a result, you are spreading your message exponentially to a number of people!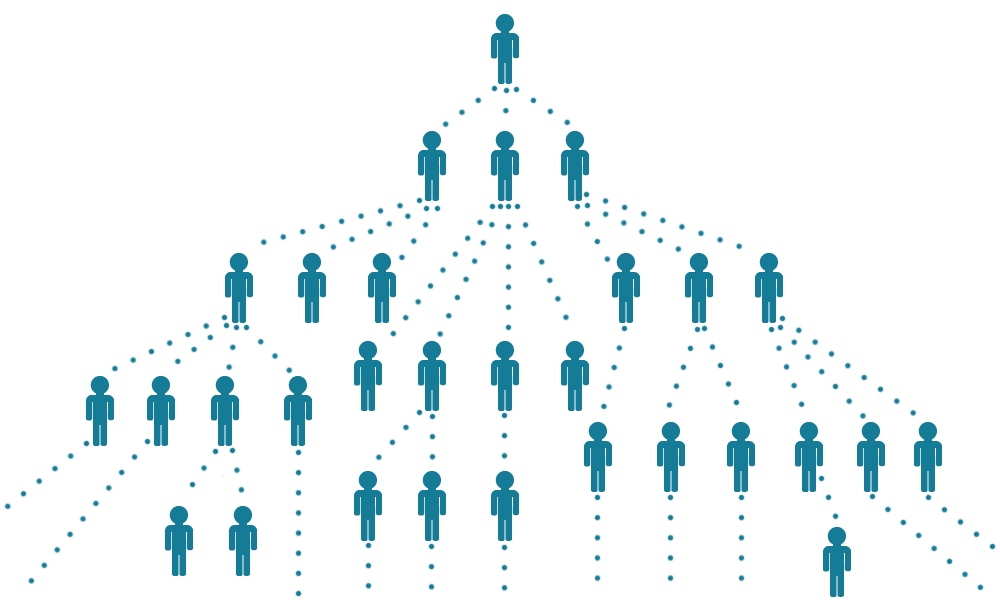 This is the same case for Twitter.  When you tweet a message such as, "Cochlear Implant is the best invention ever!" on Twitter, your followers will see it.  When your followers retweet, their followers will see the message too.
Let's reach as many people as we can.  About 4 million 700 thousand people with profound deafness do not know about cochlear implants today.  You may never know that you might meet someone online who needs the technology because he or she is suffering from isolation, relationship problems, or mastering in school but didn't know the technology existed today.  You could profoundly impact someone's life.
And…Stay tuned for an ultimate guide to spreading awareness about cochlear implants coming this spring!
Every other year, Cochlear Americas hosts a conference known as Cochlear Celebration. The goal of the conference is to provide their customers support for the products they sell, cochlear implants and baha, and also living with hearing loss and also give customers the opportunity to meet and talk with staff in person. The sessions provide the attendees with better knowledge in how to best care for and utilize the products, live to the fullest with hearing loss, and get best quality of hearing. They also provide ample amount of opportunities for attendees to socialize. Socializing is a very critical aspect of the conference because it gives attendees the opportunity to be with people who "get it." Most important of all, the conference gives both employees and attendees the moment to celebrate the miracles of hearing.  Many of these people who are utilizing their products once have faced isolation, relationship problems, struggled to get a job and/or missed hearing music.  They now have their life back thanks to the technologies available to them today.
During my attendance at the conference as a staff member, I managed the company's social media channels.  I took photos with my professional digital SLR camera and uploaded them to Facebook.  I had fun Instagraming and sharing them on Twitter.  I listened to the presentations and live tweeted quotes and facts.  From my iPad and iPhone, I responded to both attendees and non-attendees tweets about Cochlear Celebration.  There was even a special hashtag for the Celebration, #Cochlear2013.
So, why is it important to have social media presence during a conference?
Companies gain greater publicity.  When attendees and non-attendees share posts relating to the conference on Facebook and/or Twitter, their friends on Facebook, and/or followers on Twitter will see their posts and possibly share them with their friends or retweet them for their followers to view.  As a result, the messages are being spread exponentially to a number of people.
When photographing companies' employees working at the conferences and sharing them on social media, it shows the customers that employees are passionate about their work and caring for their customers.  It could increase customer satisfaction.
When sharing photographs of customers at conferences, especially those with smiles, it could persuade potential customers to choose to purchase products from the particular company because of the impressions customers show.
If the conference is a recurring event, the posts from the conference could trigger non-attendees to register and attend the next upcoming conference.
It's an opportunity to build a brand evangelism.
Because there are many social media channels to keep up, I created a one-stop shopping social media catch all website to help attendees and non-attendees maximize their use of social media during the conference.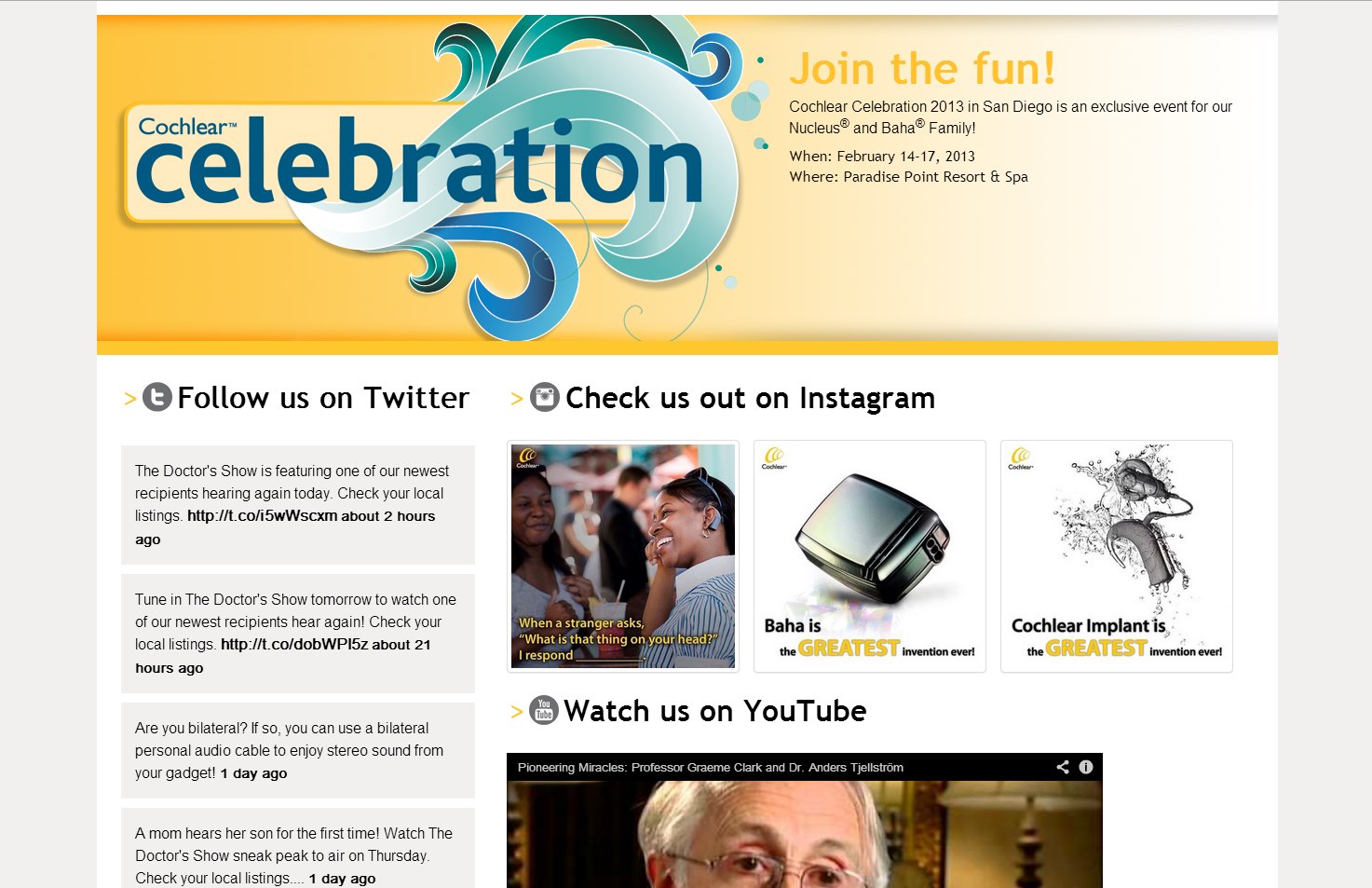 For one of the Facebook pages I manage, Cochlear Implant Online, I set a goal in November to reach 4,000 likes.  On November 1st, we had 3,559 likes.  Cochlear Implant Online is merely an online resource for cochlear implants.  Cochlear implant is a surgically implanted devices that allows profoundly deaf people hear almost like a normal hearing person.  The website and all of the social media channels are managed solely by a dear friend of mine and me.  We truly wanted to increase the number of likes so that we could reach out to more people and increase the awareness of the existence of the technology and the fact that deaf children can learn to hear and speak.  However, we didn't have the budget to pay for Facebook Ads.
I had to strategize ways to increase the number of likes without paying for Facebook Ads and  pressuring people to "like" the page.  The first and foremost question I had to consider was, "How can people find Cochlear Implant Online on Facebook?"  So, I thought about ways people can find the page besides paying for Facebook Ads.
When Facebook users click "like" on a post on a Facebook page, some of their friends will see the photo on their newsfeed. When they share a photo and their friends click 'like' or share the photo too, their friends will see it on their newsfeed.  As a result, the reach of a post is spread exponentially to a number of people and the visibility of Cochlear Implant Online page is increased.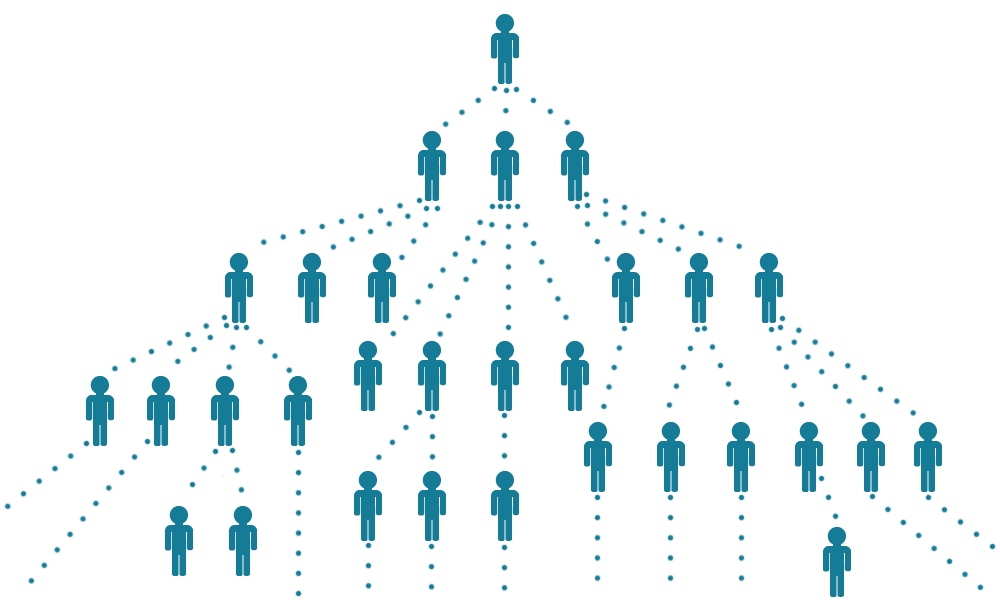 Thus, when a Facebook user click "like" on a post or share it, many of their friends who see the same post will likely not have already clicked "like" on the page.  This is where we have the opportunity to increase the number of "likes."  If the post appealed to them, they will either click "like" on the post itself, visit the page and/or "like" the page.
Now, in order to get people attracted to the posts, we certainly have to create high quality content.  From my observation on Facebook, I have found that people are attracted to two things:
PHOTOS PHOTOS PHOTOS! According to Facebook's internal data, photos generate about 120% more engagement than an ordinary post without any photos or videos.  As someone who manages three Facebook pages, I can attest it.  For example, on Cochlear Implant Online, the post that received a record breaking reach in the past three months was an illustration of a cochlear implant along with a statement, "Cochlear implant is the best invention ever!"  As of this writing, this post reached 6,500 Facebook users, received 768 likes, and 458 shares.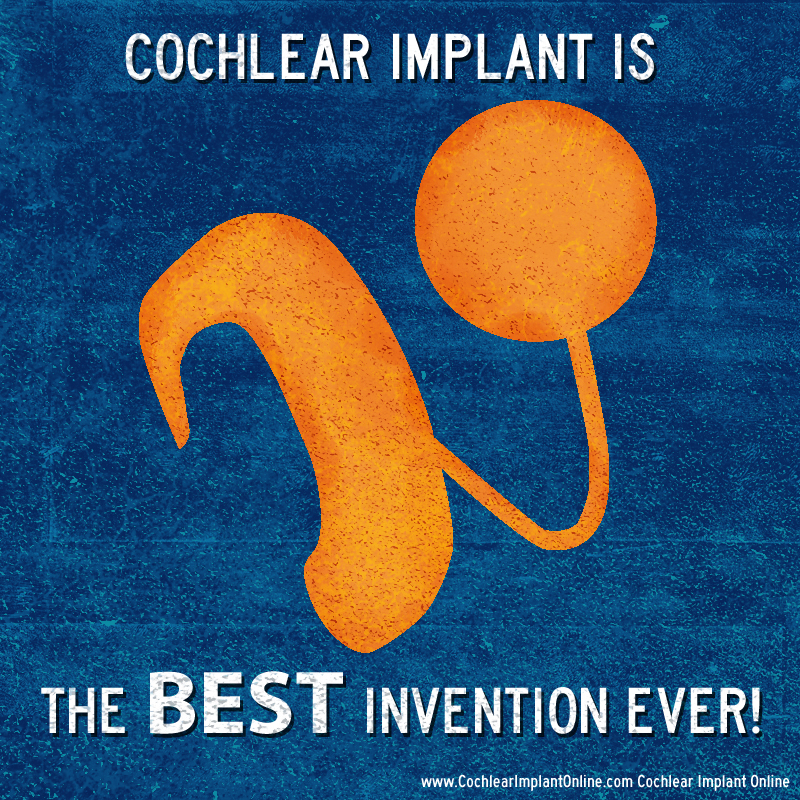 From November 1st, 2012 until now, there were 93 posts on Cochlear Implant Online page.  The top 22 posts were photos.   The 23rd top post was an ordinary post without any photos or video was 1,369.  It was a link to a web page about a young man riding a bike to baseball stadiums to raise money for people who can't afford cochlear implants.  It had only 22 shares and 131 likes as of this writing.
When "Cochlear Implant is the best invention ever!" was posted on November 20th, 2012, the page gained 20 new "likes" on the same day.  On the following day, the page gained 26 more "likes."  Two days after the photo was posted, it gained additional 16 "likes."  The page gains on average of 10 new "likes" a day.
The second record breaking post, which was also an image, in the past three months was posted on December 12th, 2012.  On the same day, it gained 21 more "likes."
EMPATHY! While photos and also videos, which result in 100% increase in engagement, do indeed generate much greater reach, the content of the photos are extremely important.  The photos need to express the feelings that fans can relate and want to share.  We need to ask: "How do fans feel about the product, service or topic?"  For the Cochlear Implant Online page, I ask myself these questions:
"How do fans feel about cochlear implants?"
"How do fans feel about being able to hear and speak?"
After asking the questions, I jot down answers.  Fans see cochlear implants as the most incredible invention, a miracle, and a technology that changes their life.  Fans feel so happy about having the opportunity to speak.
Then I create images based on the answers.  Here are examples of other images that achieved the highest engagement:  
While the quality of engagement on Facebook is very important, the number of "likes" is also crucial.  However, I do need to note that increased "likes" a Facebook page does not always equal to increased engagement.  High quality content is what creates high engagement.  When the content does truly appeal to Facebook users, then increased "likes" will create higher engagement.
The bottom line is that when we post photos that express empathy, we increase the number of likes. We did achieve in reaching 4,000 likes before the end of the year – on December 17th!