New England – Southeastern Canada: Exploring the Beautiful North America Post-Election – Part One
As Alex and I both said on the plane heading back to the States from Cameroon, we would be going on many more new adventures.  And we are going on many new adventures.  The day after the election day, we left for a two weeks road trip traveling throughout New England and southeastern Canada to explore the beautiful North America.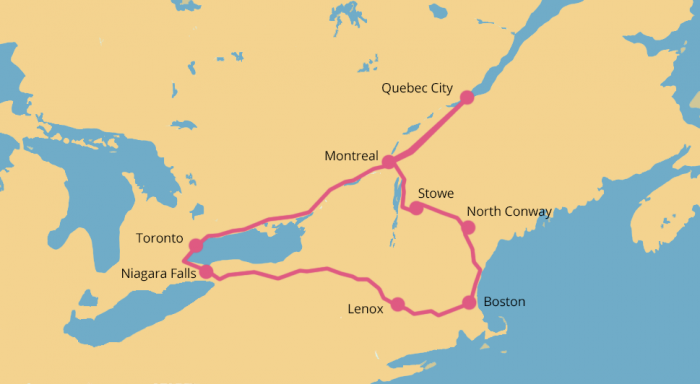 I stayed up for the most of the night on the election night feeling physically ill knowing that a man who incited discrimination towards Jews, women and persons with disabilities, all of those identities that make who I am, has won the US presidential election.  It was hard for me to get out of the bed in the morning and leave for the road trip as I was feeling so worried about what I could possibly see in America and the whole world for the next four years.  Family and friends told me that I could just use my Canadian passport, which I have because my father is a Canadian, and move to Canada. I told them, "No, America is my home." I was born and raised in the US.
Every time I leave the US, I learn far more about my homeland than I do while living in the US.  Every time I go abroad, I gain greater appreciation about my country. My foreign friends teach me that the US is a role model for so many countries around the world.  When I post something about the US election or US current events on Facebook, friends from Italy, the UK, Australia, and Cameroon voice their opinions and show me that they depend on our decisions in the US.  The US shows the world how to give rights to persons with disabilities.  The US shows what it means to be creative and innovate products that are well loved by people around the world.  The US shows how the government functions well even though it may not be as perfect as Americans would wish to see.  Thus, it's important for me to stay home and fight to ensure that the principles and values of America remains intact and we, Americans, continue to be a role model for others around the world.
Going on the road trip turns out to be a very much needed adventure.  It was a time to reflect the differences of my life in Cameroon versus in the US and to appreciate the beauty that the North America has to offer to me.
As Alex and I took off from Boston, I marveled at the beautiful paved roads that were free of potholes and beautifully painted with lines.  While there are many paved roads in Cameroon, there are also many unpaved roads, making travel time much longer.  Alex and I arrived in North Conway in two and half hours.  If the entire road was not maintained or not paved, it would have taken us probably about five hours or more.
Alex and I arrived in North Conway in the evening and had a lovely dinner at Moat Mountain Smokehouse & Brewing where we enjoyed pulled pork and meatloaf bread.  We then crashed to bed at the lovely inn, Kearsarge Inn, which included a fireplace that kept us warm throughout the night.
When in North Conway, Alex and I hiked on two different trails, Black Cap Mountain and Diana's Baths.  As we hiked on the Black Cap Mountain trail, we walked through the woods filled with fallen leaves for about 20 minutes and then we climbed up on several rocks.  Once we reached to the top of a mountain, we were offered with a picturesque view of North Conway. It was a view of mountains and evergreen trees.  When I choose the next destination to travel, I often refrain from choosing the US just because it is my homeland and I want to see a place that is different from my own world.  However, when I go to another part of the US I have not seen such as the North Conway, I am reminded that the US is a vast land with variety of geographical features and I still have so much more to learn about my own country.
Diana's Bath is short and easy trail in the woods.  After walking for about 20 minutes, we are offered with a charming view of the waterfalls and rocks.  It's a beautiful quiet area that is so far removed from the noise and chaos of streets.
After spending two nights in North Conway, we drove through the White Mountain Forest National Park, a very scenic route, to reach Stowe.  We made a stop on the way at a micro-brewery, Schilling Beer, in a little traditional New England town named Littleton.  Alex and I shared a must-to-eat pizza when in New England, pizza with maple syrup, cheese, chicken, bacon, and spinach.  When traveling near or in Vermont, one must taste maple syrup, a speciality of Vermont.
Shortly after arriving in Stowe, Alex and I craved for more food and visited a lovely local micro-brewery, Idletyme Brewing, which served very good local food.  Alex and I shared a platter of local Vermont cheese and apple crisp.
When traveling to destinations that are known for their sceneries, it is a must to wake up early in the morning to see the sunrise to capture beautiful images. Alex and I woke up at 5:30 AM in the morning to see a picturesque sunrise by the Von Trapp Lodge, a hotel founded by the family of Sound of Music.  Alex and I didn't stay there due to the high cost.  We stayed a lovely little traditional New England inn called, Timberholm Inn, which has a few small rooms at a budget price.  Poor Alex was very cold while I was enjoying photographing outside and thus, he stayed in the car for a good duration of my photography time.  We then went to the Von Trapp Lodge for good hot drinks and to continue to admire the beautiful scenery.
Alex and I then went back to Timberholm Inn for a good homemade breakfast, which consisted of pancakes, sausages, pumpkin bread, and maple roasted apples.  For the rest of the day, we toured throughout Stowe, visiting Ben and Jerry's factory, Von Trapp Brewery, and Glenn Moss Trail.  The following morning, Alex and I took a cooking class at Michael's on the Hill with chef Michael.  Then we headed off to Canada.
Read Part 2 of this blog here.
Places to Eat in North Conway:
Moat Mountain Smokehouse & Brewing || Known for their local craft beers.  Delicious pulled pork and meat loaf.
Stairway Cafe || Located in town center. Fabulous blueberry pancakes and turkey sausages and other breakfast food.
Delaney's || Variety of American dishes and big selection of sushi.
Schilling Beer || Located in Littleton making a good stop on the way to Stowe from North Conway.  Delicious pizza with maple sauce, bacon, chicken, spinach and cheese.
Places to Eat in Stowe:
Idletyme Brewing || Great selection of beer. Delicious local apple crisp and Vermont cheeses.
Von Trapp Brewery || Fabulous selection of beer.  Delicious soft pretzels and sausages. Great view of the countryside of Stowe.
Paths to Hike in North Conway:
Black Cap Mountain || A two and half mile path that takes one to the top of a mountain offering beautiful overlook of North Conway.
Diana's Bath || An easy path with many beautiful waterfalls.
Paths to Hike in Stowe:
Glenn Moss Trail || A short hike to a beautiful big waterfall.
Von Trapp Lodge || Not a trail but a great spot to sit and watch the beautiful sunrise.
Where to Stay:
Kearsarge Inn || North Conway, NH || Two minute walk from the town center. A lovely traditional New England Inn. Breakfast is not served.
Timberholm Inn || Stowe, VT || Two minute drive from the town center. A lovely traditional New England Inn. Delicious homemade breakfast.